Can't see this properly, to view it in your browser click

here

.

May 2017
A Monthly Update on Our Work and Impact
Championing Livelihood Freedom: The Street Vendors Act Compliance Index Report 2017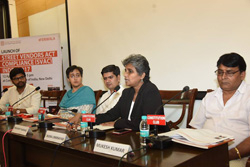 We released the Street Vendors Act Compliance Index Report 2017 at a launch ceremony that drew over 63 participants, including 11 representatives from various street vendors' associations. The report remains an outcome of a six month research study that involved 31 applications and 18 first appeals under the Right to Information (RTI) Act. Authored by Prashant Narang, Advocate, iJustice and Dr Yugank Goyal, Associate Professor and Assistant Dean (Research), Jindal School of Liberal Arts & Humanities, it assesses the status of compliance with the Street Vendors Act of 2014 across 23 states.
The launch of the report was followed by a panel discussion on the index, the status of the Street Vendors Act of 2014 and key mechanisms to ensure due compliance. Panelists included prominent policy and legal experts and practitioners, including Atishi Marlena, Member, Political Affairs Committee, Aam Aadmi Party; Parth J Shah, President, CCS; Prashant Narang; Indira Unninayar, Advocate, Supreme Court; and Mukesh Kumar, General Secretary, Janoday Ekta Samiti.
The live-stream of the event drew an additional 74 viewers and #Feriwala made over 146 posts, with 106 users and reaching 3.5 million twitter users.
Street Vendors Act Compliance Index Report | Snapshots | Media Reports
First Self-financing Credit Course in Public Policy Comes to a Close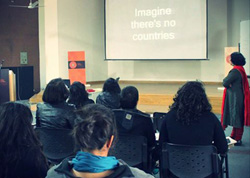 Since 2015, we have partnered with leading universities across the country to conduct credit courses for their students, as a part of the formal institutional curriculum. We have successfully delivered four 30-40 hour modules in Economics and Public Policy and Law and Public Policy in three universities in the past.
This April, we successfully concluded a 30 hours credit course on Economics and Public Policy with the Vedica Scholars Program for Women, a unique MBA program that seeks to create a cadre of successful women professionals. The module marks the launch of our self-financing credit courses for colleges and universities in India, with 31 young professionals graduating from the course. The course received an overall rating of 3.5 on a scale of 4, and we received some great feedback from the participants:
"BRILLIANT. Theory made a lot of sense and use of case-studies was amazing! Really learned a lot."
- Participant, Session on Transaction Costs and Coase Theorem
"Learnt how to draw conclusions from a set of graphs and the importance of trade and competition. The gender angle was great and isn't looked at mostly." - Participant, Session on International Trade

Our faculty included Swati Chawla, Ph.D Candidate, University of Virginia; Chakshu Roy from PRS Legislative Research; Yugank Goyal, Associate Professor and Assistant Dean (Research), Jindal School of Liberal Arts & Humanities; Shreekant Gupta, Adjunct Professor, LKY School of Public Policy (LKYSPP), National University of Singapore; Parth J Shah, President, CCS; Bhuvana Anand from Abdul Latif Jameel Poverty Action Lab; Shubho Roy, Legal Consultant, National Institute of Public Finance and Policy; and Amirullah Khan, Development and Trade Economist.
Empowering Communities, Empowering Schools with Shri Manish Sisodia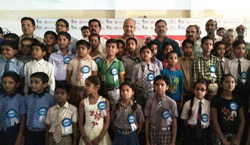 Initiated in October 2016, Sandhi is our on-going research pilot that seeks to study the effect of introducing information on learning outcomes and school excellence on parental choice and school competition. Conceptualised against a backdrop of increasing parental preference for private schooling in the low-income communities, the program seeks to realign parental choice to community-driven school information and to deflect competition from non-core domains that have little bearing on student learning. The research is being piloted in Hastsal in West Delhi and proposes a sample study of 51 schools, 2000 students and 3000 parents from within the community through observation, surveys, student assessments and focus group discussions.
On 30 April, we organized a grand event in Hastsal, to express our gratitude to the participating schools, and celebrate the winners of the 'Sandhi Olympiad' – our student assessment program that drew a participation from 496 students. The event also provided a platform for a robust discussion on transparency in education, the policy challenges confronting budget private schools, and the role of communities in improving education delivery. The event saw a crowd of over 250 attendees, including school leaders, parents, students, teachers and local community leaders. Shri Manish Sisodia, Deputy Chief Minister, Delhi was present as our Chief Guest, along with Kulbhushan Sharma, President, NISA as the Guest of Honour. Mahendra Yadav, Former MLA, and Ashok Saini, Councillor, Vikaspuri were also our distinguished guests.
Shri Sisodia affirmed the need to make education policy more responsive to the needs of children, the primary foci of all education initiatives:
"decision making in education governance should be child-centric and not government-centric"
- Shri Manish Sisodia, Deputy Chief Minister, Delhi
CCS at the Global Youth Summit and Dehradun Literature Festival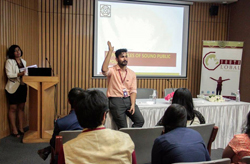 Recognising the critical potential of young learners in shaping India's emergent policy and developmental discourse, we participated in the Annual Global Youth Summit 2017 held on 6 April in New Delhi. Sadaf Hussain, Manager Programs, CCS delivered a dedicated session on 'Social Change through Public Policy'. The session introduced over 52 student participants to market-liberal perspectives in public policy, the principals of sound policy-making and encouraged the young listeners to dialogue on the challenges of effective public policy in India.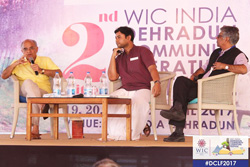 We also hosted a panel discussion on 'Liberalism in India' at the Dehradun Literature Festival, held from 19-22 April. Moderated by Hindol Sengupta, Award-winning Author & Journalist, the panelists included Gurcharan Das, Author & Public Intellectual; R Jagannathan, Editorial Director, Swarajya Magazine; and Jaithirth Rao, Founder & Former CEO, MphasiS. The panel discussion was followed by the launch of Liberalism in India: Past, Present and Future, our festschrift honouring S V Raju that contains contributions from the panelists and other leading liberal voices in India.
Read an excerpt from the festschrift here or order your own copy by emailing us at publication@ccs.in
Reconnecting with Our Champions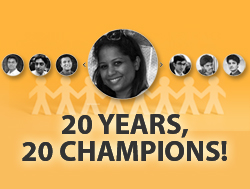 To mark our 20 year journey in nurturing young champions of liberty from across the country, we launched an exclusive alumni portal on our newly designed CCS Academy website. The portal contains information on alumni events, lists opportunities for advanced trainings and fellowships, includes a discussion forum and a searchable database of CCS alumni from 20 years of our programs. The website also features our '20 Years 20 Champions' campaign—a bi-annual profiling of 20 select alumni to recognise and celebrate their contributions to creating a freer society.
We hosted 'Liberty Connect', an exclusive meet for our alumni in Bangalore. Held at the Cubbon Park in the city. With 10 alumni, the event was a casual meeting filled with conversations, memories and networking for social change.
If you have participated in any our programs, register now to connect with our growing network of alumni, and explore exciting opportunities to learn, share and grow!
Want to attend our next alumni meet? Sign up for CCS Connect to stay updated with our forthcoming events and programs.
Reaching out to the States for Education Reforms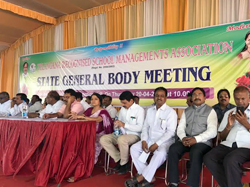 The National Independent Schools Alliance (NISA) today has grown to become the fundamental voice of budget private schools (BPS) in the country with its presence in 19 states through 23 state associations that include over 55000 schools. The alliance remains a pan-India platform advocating the rights and recognition of BPS across the country. It continues to engage with key policy influencers and practitioners in its member states to promote and safeguard policy reforms that foster educational choice, quality and access.
In April, the Ambala District Association of NISA convened a meeting to highlight the role of BPS in providing quality education to children from low-income communities. Mr Kulbhushan Sharma, President, NISA was felicitated at the event for continuing contributions towards fostering school choice and educational quality in BPS in Haryana. The meeting also served as a platform for the launch of NISA's 'Mission 2018' campaign—a dedicated campaign to develop Haryana as a model state for the adoption and effective implementation of  Direct Benefit Transfers in the form of school vouchers in the state education policy.
The Telangana State Chapter of NISA hosted a meeting drawing over a 1000 participants including NISA office bearers, school owners, school leaders and education enthusiasts from the region. The participants dialogued on the distinct challenges of BPS in Telangana, along with strategies for more effective advocacy at the district and state levels.
CCS IN NEWS
We were on television thrice this April! Avinash Chandra, Editor, Azadi.me and Thomas Antony, Associate Advocacy, NISA participated in a panel discussion on Loksabha TV on extant laws on fee regulations in private schools. Chandrakant Singh, BPS owner was also present as a panelist. Parth Shah, President, CCS was featured on Loksabha TV speaking on Ambedkar's legacy as a liberal economist. Amit Chandra, Associate Director, CCS put forth the perspective of BPS on fee regulations on behalf of CCS and NISA on MH1 as a part of 'Big Debate: Private Schools versus Parents'. Watch Part 1, Part 2, Part 3 and Part 4 of the debate on the MH1 Youtube channel.


Our Street Vendors Act Compliance Index launch saw a participation from 10 media representatives and a coverage of 10 media stories in online and offline news platforms like ABP News and Business Standard, among others.


NISA had issued a statement opposing the CBSE circular that mandated the imposition of a heavy penalty on private schools for not furnishing 'confidential information', as a marked deviation from the primary intent and function of the CBSE – assessment, certification and maintenance of school quality. Our demand for the withdrawal of the circular drew 16 media stories in leading Hindi and English online and office news platforms including Telegraph India, Livemint, Governance Now, among others.


Our perspective on fee regulations in private schools was also covered in 3 leading news portals. An article authored by Amit Chandra on the issue was published in Swarajyamag. The article titled 'Fee Hikes: Parents, Fight Against the RTE and Not Schools'reviews the issue of fee hikes in the context of policy flaws that significantly raise operational costs for private schools.
See other media stories here
CCS offers challenging opportunities to work in a unique, high-energy and vibrant work environment. Find your fit, and join our growing team.
Current Openings:
Find more positions here
STAY CONNECTED
Signup for CCS Connect for updates about upcoming events at CCS.